Back To Our Services
Your gate is the first thing that anyone will see when they approach your home. Yours may be made of iron, steel or wood. In this article, you'll learn more about the different pros and cons for each type and how our team can help out when things go wrong!
The Pros and Cons of Wood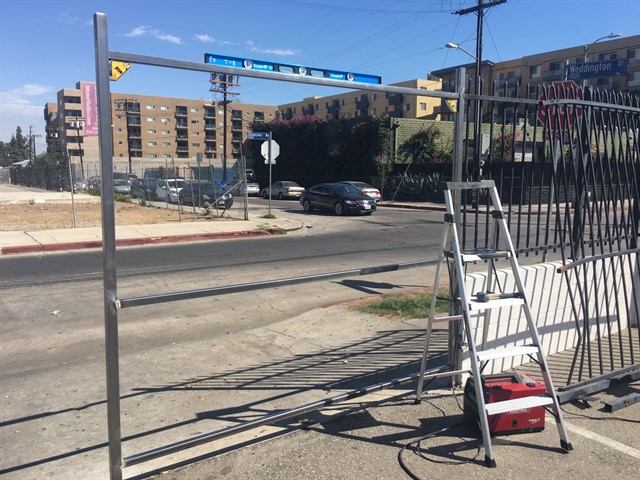 Wood is one of the most common materials that man has mastered. It's very easy to manipulate, shape and to mount but it's also very sturdy. It's no wonder that it is a favorite for building gates. One of its best qualities is its rustic appeal. Just by using wood, you'll be able to convey your connection to a more rural life. Some of the main concerns when using wood are rot and warping. Untreated or insufficiently treated wood will rot. When wooden doors are exposed to high humidity and moisture some pressure treated wood will actually expand and warp. Wood gate repair includes restoration for mild rotting in a way that would make it look like new.
The Pros and Cons of Wrought Iron Gates
This type of gate is very durable and can be very artistic in the right hands. Artists can actually make a door look like an awesome artwork. The main problem with this is actually rust, because they're not rust proof. Certain parts like the welds between bars, the hinges and even the ornamental designs will have to be repaired. If the damage is too extensive, you're going to need a gate hinge repair.
The Pros and Cons of Steel Gate
Many consider steel as an improvement over iron. This can be true in terms of steel's own history; steel is actually an alloy of iron, which means that the benefits are similar to that of iron. It's durable and also easy to shape. It is also plagued by the same problems – rust.
The Best Gate Repair Service in the Area is just a Phone Call Away!
Gates are not only able to keep unwanted people out. They are also able to project the aesthetic values and look of the house. If you're having trouble with yours and it's currently not in tip-top shape, call us up at Garage Door Repair Lacey for professional gate repair services and we'll make sure that it will work again. Check out our website for more details.
Back To Our Services